Dr. James Beard, DDS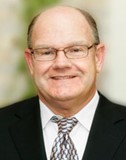 Background and Credentials
Periodontist
Dr. Beard grew up surrounded by the orchards and vineyards of the central California community of Modesto. He attended Stanford University where he majored in the biological sciences. After receiving a Bachelor of Science degree, he went on to do post-graduate research in neuro-biology. His research focused on the study of the induction mechanisms of hibernation in mammals and earning his first Master's degree.
Following Stanford, Dr. Beard moved on to the Ivy League, receiving his Doctor of Dental Medicine degree from the prestigious University of Pennsylvania School of Dental Medicine. Dr. Beard enhanced his skills in both Periodontics and Prosthodontics while providing comprehensive diagnosis and treatment of the most severely compromised periodontal patients.
Dr. Beard received both his specialty Certificate in Periodontics and Master of Science in Periodontics from Northwestern University School of Dentistry.